If you're in the hospitality field, you just survived the jolly ole season of working long hard hours. I was in a very well known local restaurant a week before Christmas, and one of the servers who's been in the business for years informed me that all of their holidays had been cancelled. The manager mandated that everyone work Christmas, New Years, and every day in between.
No choice in the matter. It's a corporate mandate. An all-hands-on-deck kind of thing. If you don't work, you won't be there any more.
I was blessed this year to spend Christmas at the Grove Park Inn in Asheville, North Carolina. The Inn just celebrated its 100th Anniversary, and Christmas there is like a magical sleigh ride through time. One chilly morning, as I sat snuggled before the storybook fireplace in the lobby, another guest shared her amazing, yet somewhat disappointing, visit to the nearby Biltmore House. My fireplace companion was somewhat disturbed by the fact that Mr. Vanderbilt constructed the largest mansion in America in 1913, yet the servants' rooms were, in her estimation, very small. She was further dismayed by the fact that the servants had to work on Christmas.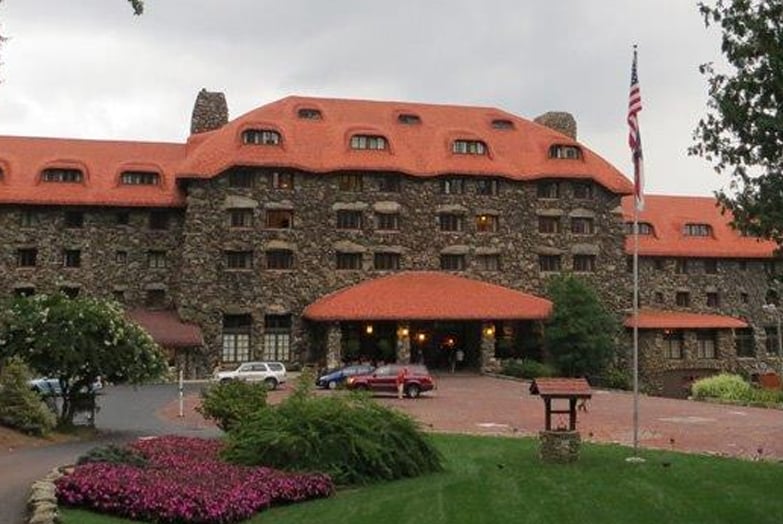 I reminded her that at the turn of the century, it was probably a welcomed alternative to live in such a beautiful home with the security of a roof over your head and food to eat. And, after all, was George's demand for staff support really that much different from what those of us enjoying the amenities at the Inn expected?
Seems to me that my local restaurant and the Grove Park Inn have something in common. Both venues are about quality and service, so a mandate to work the holidays is very much in keeping with their desire to meet the market demand. People are choosing to travel or eat out during the holidays, and the leaders of these types of hospitality venues obviously see an opportunity to meet that need.
Yet, there is a difference in how the restaurant manager positioned his "mandate" and how I imagined the General Manager of the Grove Park Inn engaged his employees to press on through the holidays. It's all conjecture on my part, but based on the overwhelming enthusiasm of the Grove Park staff, I suspect the difference lies in a mindset of steward leadership.
Why Steward Leadership?
In his renowned work, Steward Leadership, Peter Block reminds us that the essence of this type of leadership requires collaboration. Rather than a hierarchal, top down approach to leadership, decisions, processes, and policies come forth from the people in the ranks.
This is not suggesting that employees have full control over every aspect of the organization. Blocks clearly reminds us that "stewardship is creating a sustainable connection with the people in our playing field . . . ."
Steward Leadership has a level of humanity to it that considers both internal (employees) and external customers. It reaches beyond the scope of the bottom-line and does that which is right and just for the greater good.
Sounds a bit risky, but in today's market place, demands are highly complex on all fronts. Steward leadership is an approach that allows for greater innovation. And, it creates buy-in from employees in ways that lead to more profitable outcomes.
In the restaurant scenario I've just outlined, for example, the corporate leader(s)might ascertain via market research that their is a demand to be open on Christmas Eve and Christmas Day. This research would be presented to national managers who in turn would have the opportunity to offer solutions on how best to meet the demand and still respect and value the needs of the wait staff. Rather than a corporate mandate that applies to everyone, the decision to work nonstop through the holidays might be an option. I suspect this is the approach that was taken with the staff of the Grove Park Inn. I've never seen a group of people work harder over an extended period of time. Yet, these employees were cheerful, empowered, and eager to serve their guests.
A Challenging Dilemma.
Sounds simple enough, but when bottom-line is king in an unstable economy, it is difficult to balance that which is right and just with the need to make a profit. Leaders today, from every walk of life, are challenged by these very issues. This particular holiday dilemma applies to hospitals, churches, hospitality settings, and everyone in the retail business.
How do leaders in these fields meet the demands and still honor and respect the needs of their employees?
Block reminds us that "A heavy hand leads people to give more attention to the measurement than to the service or product or outcome." George Vanderbilt was known for giving out gifts to staff members and their families on Christmas Eve. I'd like to think that perhaps this was his own way of balancing the need for staff support and continuous service with a heart for his people.
Meeting the Demand from an Abundant Mindset
The question that comes to mind is, how much is enough? The demand is there, the profits must be made, yet, even still, restaurants like Four Rivers Barbeque and Chick Fil A have opted to be closed on Sundays and holidays. Both are clear and clean examples of profitability, and yet they have made choices based on an entirely different set of values.
Perhaps the answer, then, for my local restaurant is more about how things are stated than even what is stated. If, for example, the manager of the restaurant has no alternative but a corporate mandate to have every member of the wait staff work throughout the holidays, perhaps the request could have been made absent the word "mandate."
Steward leaders, among other things, understand the power of language. They use language that comes from a spirit of generosity, empathy, compassion, and respect for others.
If you're a leader trying to make those tough calls during holiday seasons, I encourage you to think about your choice of words. Our words reflect our thoughts. People in the workforce need to feel valued and cared for, and when they do, they perform better. When leaders fail to value their employees, the result is often high turnover, poor consistency, and lower customer satisfaction.
Valentine's Day is just around the corner. I'll undoubtedly enjoy an evening out with my husband and support one of my favorite restaurants in the process. But, I never do so without acknowledging the very hard work of those who make it possible for me to indulge while they so tirelessly work to make it all happen. For those of you who plan to indulge right along with me, remember to tip your servers well and acknowledge their efforts. Remember, they have given up time with their own families to make sure you have an enjoyable evening or holiday.
Q: If you're in the hospitality field, what's the nicest thing anyone has ever done for you while working?