Every once in a while—maybe only once in a lifetime—if you're lucky, you meet someone who changes your life.
I've been blessed in that I've had several mentors and/or coaches throughout the course of my career. My experience with each of them has built upon the other. Maybe it was a long-term arrangement or maybe it was someone who struck a cord at a seminar. I'm a habitual learner, so, for me, the scenarios are endless.
But, there was one special guy who kicked over that first domino. One guy who set me on a path I never could have imagined.

His name was Michael Strasner. At the time, he was a key facilitator for an experiential training company. I met Michael while enrolled in a three-month leadership program.
Michael was smart. He was intuitive. He was someone who knew how to bring out the best in people. Some viewed him as cocky and arrogant—an in-your-face kind of guy.
When you're in the business of transforming lives, it takes a certain level of bravado. I experienced Michael as energetic and passionate about helping others make a difference in the world. And, he had an amazing ability to see things in you that you didn't even know existed.
Much of my own coaching and consulting style has evolved from those early days of experiential learning with Michael.
I believe that the difference between being a great coach and being a mediocre one is courage. You have to be willing to speak the hard truth. It's not about being liked. It's about being in service to a person's greatest potential.
Here are a few of the courageous things that Michael did that forever changed my life.
Pushed Me Outside My Comfort Zone
During the course of three months, Michael consistently challenged me to do things that I never would have done otherwise. Each time I met the challenge, he would raise the bar. By the end of program, I came to understand that I could do just about anything I set my mind to.
Stepping outside my comfort zone in the program transferred to the daily unexpected challenges of life. I learned to adapt and trust my instincts. I learned to set higher goals and achieve them. I learned that whenever I was uncomfortable with something, it usually meant that there was change worth embracing.
Later, the lessons learned would prove extremely useful in my years of speaking and consulting across the country. I became "comfortable" with the discomfort of clients in different industries, places of extreme weather conditions, delayed flights, and even unsavory hotels and unpleasant people.
Michael taught me that when we break down the barriers of existing beliefs and step outside our comfort zone, we embrace the mystery of transformational growth. In fact, we can never fully step into whom we're called to be until we do so.
Helped Me Experience Myself as a Leader
Here's a vivid memory. Michael asked me to step into a leadership role for the team. I don't remember the circumstances, but I stuttered and stammered excuses for why I was the wrong person for the job.
Michael's response?
"I've given you task after task, and you always go above and beyond the call. Don't tell me you're not a leader. I know you are. Just step up and get the job done."
There was rarely an option. If Michael pushed you into a leadership role, you'd find a way to realize that potential within yourself. Until one day, you'd accept that the potential was there all along.
I not only became a better leader as a result of Michael's prodding, I learned to recognize leadership in others. Experiencing myself as a leader was a game changer and a big part of why much of my work today evolves around leadership development.
Challenged Me to Raise the Bar
There was a graduation day, and on that day, Michael said something that knocked me stupid.
"You're the one person on this team that could have my job," he said. I remember thinking, what drug is he taking?
You see, Michael was changing lives. I certainly didn't see myself in that capacity. In fact, it would take me five years to fully understand what Michael was saying. When I finally realized that Michael was challenging me to raise the bar for my own life, I did just that.
I started my own company. Became a professional speaker, and that eventually led to my consulting practice. Over the last twenty-five years, my work, to include my latest doctoral research, has centered around maximizing human potential.
I attribute my heart's desire for transformational work to Michael. He wasn't the only mentor, but he was the first to teach me how to read people and how to appreciate them for who they are in the moment and whom they might become in the future.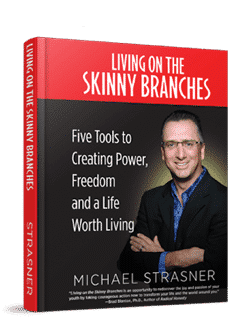 I lost track of Michael some years ago. Until last week when a mutual friend of ours sent me a FB message telling me that Michael has a new book coming out. It's titled, Living on the Skinny Branches. Great title, don't you think?
Michael's book will be released on November 17th, and I can't wait to share his message with my colleagues and friends.
I don't yet know if the book will be great or even good. It doesn't matter. What I know for sure is that Michael's heart is in it and when Michael shares his passion and energy for people, the world changes.
I was privileged to be a part of that change so many years ago. I'm delighted to be a small part of it now. I hope you'll join me in celebrating Michael's work. I'm not one to promote someone's book on a blog post. But, when someone dramatically changes your life, I'm thinking that's a guy who deserves a shout.
Michael believed in me when I didn't believe in myself.
Thanks, Michael, for putting who you are and what you do on paper. I'm looking forward to the read.
Image credit: © Dollar Photo Club.